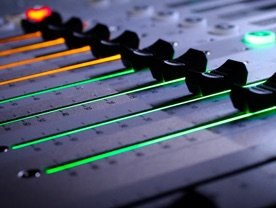 Music
Production
Full service music and sound production for film, broadcast and multimedia. HD audio treatment from start to finish and post production. Utilizing the best digital and analog equipment available to ensure that we can produce sound exactly to our vision. The studio is equipped for any project size.
Music
Scoring
The composition of original music is at the core of this craft. Our work ranges from composing music for film, television and radio broadcasts to commercials, corporate videos, branding and product launches, multimedia presentations, computer and video games, animations, audio visual slide shows, events, fashion shows, documentaries, short films, infomercials and web streaming …
Working across a wide range of music genres, from fully orchestral to electronic. We nevertheless strive towards a distinctive approach where standards of writing are always matched with high production values.
Sound
Design
Bridging the gap between music and sound effects we specialize in building sound worlds where projects acquire a unique character through sound texture.
At STL we develop our own sound effects and sound design. We hold an exclusive in house sound library. Everything from HD Quality nature sounds and environmental elements to Sci-Fi soundscapes and cinematic SFX.
Music
Library
Soundtrack Lab is a high-end production house specializing in music and sound production for film and visual media. Our music and sound library is a diverse catalog that spans across a wide range of musical genres. Our offering of pristine quality production music and sound design for film and media producers with demands on high production values.
100% Royalty Free Music and Sound Design intended for use in film, television, broadcast, web and interactive media on an on-demand basis.
Our vision is simple: to allow our customers the benefit of real quality Soundtracks without breaking the bank. Our artists and staff is made up of active film composers and musicians who understand the needs of today's media producers, and the pressures of production schedules. Our service allows anyone to get great-sounding music and sound effects, from anywhere in the world at any time of day.
Because of our extensive experience and backgrounds, we can offer what many others cannot: music in just about any style imaginable that is sonically and stylistically accurate and does not sacrifice musical integrity or production values.
The Music
Our composers are conservatory-trained and active performing musicians in a variety of genres, from concert music, to electronic and jazz. Our music and sound tracks are carefully screened before selected to maintain the highest standard on the market.
Soundtrack Lab not only offers individual tracks in a variety of styles, but also full soundtracks, allowing high demanding producers and directors to download entire thematically-cohesive underscores. Where music cues and soundscapes relate in a cinematic sense. For the first time ever, producers can assemble an entire film score from start to finish!
Soundtrack Lab