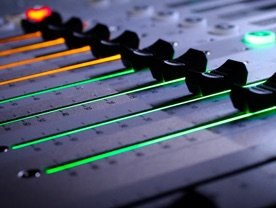 Production
House
Soundtrack Lab is a high-end production house specializing in music and sound production for film, broadcast and multimedia. Our composers are conservatory-trained and active performing musicians across a wide range of musical genres.
Our objective is to offer a complete solution from start to finish. No project is to big or small, we deliver pristine quality for all.
Music & Sound
Production
Full service music and sound production for film, broadcast and multimedia. HD audio treatment from start to finish and post production. Utilizing the best digital and analog equipment available to ensure that we can produce sound exactly to our vision. The studio is equipped for any project size.
Music
Scoring
The composition of original music is at the core of our craft. Our music work ranges from film, television and radio broadcasts to commercials, corporate videos, branding and product launches, multimedia presentations, computer and video games, animations, audio visual slide shows, events, fashion shows, documentaries, short films, infomercials and web streaming.
Working across a wide range of music genres, from fully orchestral to electronic we always strive towards a distinctive approach where standards of writing are always matched with high production value.
Sound
Design
Bridging the gap between music and sound effects we're building sound worlds where projects acquire a unique character through sound texture.